4-H Club kids take over Blue C Community Garden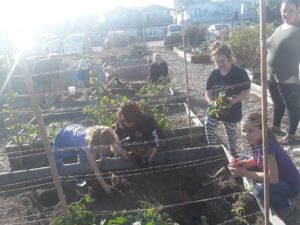 A group of students in the Los Osos 4-H Club are learning about gardening, worm composting, beneficial insects, and herb preservation through a program offered by the Blue C Community Garden in Los Osos.  The program is headed up by Blue C gardener David Hunter, who is on the Greener Living Homes Team at Keller Williams Realty.  A devoted organic gardener, David designed the program and recruited local Master Gardeners and Master Food Preservers to assist.  The program, which runs from October 9-December 4 will also include a public service project, in which the students will construct a rainwater catchment system for the garden.  At the final class, the students will create herb wreaths and sachets  to give as holiday gifts.
Plots are available at the Blue C Community Garden for individuals and families interested in community gardening.  Please call (805) 548-0597 for information or visit our web site.