Closing drum circle ceremony at Central Coast Bioneers, featuring Francesca Bolognini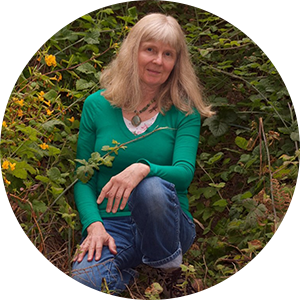 Francesca Bolognini has had a lifetime musical involvement, including sound engineering and performance and instruction as a dancer, singer and percussionist. She founded the first Ecstatic Dance group on the Central Coast twenty-five years ago, which still meets weekly in Cambria.  Francesca has led several hundred of Drum Circles around the county, introduced hundreds to their first drumming experience and helped many of them to find their perfect drum.
Inspired by her cousin, Leon Billings, the primary author of the Clean Air and Water Acts, she was an organizer and media rep for the '81 and '83 blockades of Diablo Canyon Nuclear Power Plant and is a strong advocate for restoration of beavers to our environment.  Francesca participates as a presenter of Somatic Movement, Sound Meditation with Tibetan bowls and Drum Circle leader for Somatic Intensives offered by Fielding Graduate University, an international psychology institution, as part of their Human Organizational Development PhD program.
The 2022 Central Coast Bioneers Conference will end with a drum circle led by Francesca.  Attendees who wish to participate may bring their own drum or percussion toys or borrow from the extra instruments provided. A few minutes of instruction from Francesca will precede playing. The rhythm will be spontaneous, improvised and appropriate for experienced musicians and total beginners as alike.  We will set an intention that our Circle will be sending our collective energy towards the healing of our Community and our Earth and implementation of the many constructive solutions we have learned and shared during the event.  Dancing is also highly encouraged.