First six SLO Clean Energy Ambassadors trained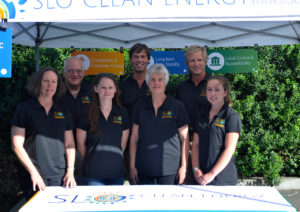 This year, SLO Clean Energy introduced its Ambassador program to assist the Leadership Team in its mission to bring a local clean energy economy to San Luis Obispo County.  Ambassadors are volunteers who serve the public outreach and education function for SLO Clean Energy. They will reach out to businesses, groups and individuals to educate them about Community Choice Aggregation and build bridges to stakeholders. Ambassadors receive training and support from the Leadership Team and report back regularly on their progress. The first six graduates are Anna Robinson, Kevin Hauber, Bruce Severance, Amanda Johnston, Donna Duerk and Fred Fink.  Also pictured is trainer Stacey Hunt.
Community Choice Aggregation, as authorized by State Assembly Bill 117, empowers communities to buy and produce clean electric power.  CCAs were created to enable choice and competition in the retail energy market. SLO Clean Energy was formed to explore the possibility of bringing a CCA to SLO County. CCAs are already in place in several other states around the country and two are operational in California, one in Marin County and one in Sonoma County. Monterey, Santa Cruz, San Diego and Santa Barbara Counties have already started the process of establishing CCAs.
The benefits of CCAs are many, including competitive energy pricing and consumer choice, long-term electrical rate stability, local control and accountability, local jobs, clean energy and local self-resilience. If you are interested in become an Ambassador, contact June Cochran at june@slocleanenergy.org.