Free Central Coast Bioneers events at Cal Poly's Earth Week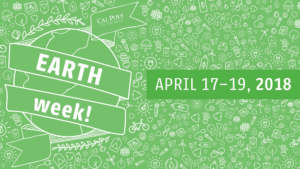 Cal Poly Earth Week is teaming up with Central Coast Bioneers on two events featuring moderated talks from the 2017 National Bioneers Conference.
April 17 – Letting the Community Decide: Renewable Energy for SLO
4pm to 6 pm – Building 22, Room 219
Featured Bioneers keynote speakers Thomas Van Dyke and Mariel Nanasi will discuss the clean energy revolution and taking on coal and nuclear domination.  The screenings will be moderated by Eric Veium, President of San Luis Obispo's chapter of the Association of Energy Engineers and a team leader of SLO Clean Energy.  Eric will bring us up to date on the local clean energy revolution.
April 19 – Speaking up for a Sustainable Future: Journey to Standing Rock and Local Activism.
4pm to 6 pm – Building 35 Room 111H
Featured Bioneers keynote speakers Amy Goodman and Heather McGhee will talk about the movements changing America and a new "we the people" for a sustainable future.  Goodman's screening will be followed by Q&A with Standing Rock Water Protector Roberto Monge.  McGhee's screening will be moderated by Dr. Ryan Alaniz, an associate professor at Cal Poly whose research includes sustainable community development.
The events are free and sponsored by Ecologistics and Central Coast Bioneers.  For a campus map showing the location of the two events and convenient parking go to www.ecologistics.org.