Let's make our voices heard at the COP 21 Paris talks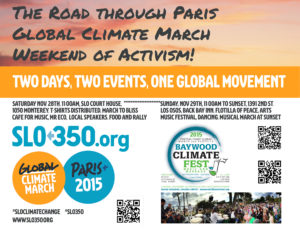 Two events next weekend will allow SLO County residents to join with others around the world to demand meaningful action on climate change at the start of the United Nations Paris climate talks. The weekend before the Paris talks, people will be coming together in a massive global weekend of action that will make sure global heads of state know that the entire world expects them to take nothing less than dramatic action to shut down the fossil fuel industry and build the renewable energy we need. Be a part of it!
Saturday, November 28, 11:00 am, beginning at the SLO Courthouse at 1050 Monterey St. – SLO350.org  will lead a march to a rally at Bliss Café, where you will hear music and local speakers. T-shirts will be distributed.
Sunday, November 29, 11:00 am to sunset – Ted Emrick will host a Baywood Climate Fest at the Back Bay Inn in Los Osos, 1391 2nd Street. Bring your kayak, canoe or small sailboat to create a peace sign flotilla. Enjoy food, world music, beer and wine. The entire event will be captured on video and photographed and posted on Avaaz.org, the world's largest online activist network, to present to the world leaders in Paris.