Scholarships available for Central Coast Bioneers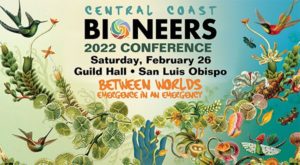 Thanks to the generosity of out conference attendees, we have six scholarships available for local students, 15 years of age or older, to attend Central Coast Bioneers on Saturday, February 26.  A link to the scholarship application page is here. 
In other conference news, new exhibitors who have registered since our last E-Zine are Slow Money San Luis Obispo, Protect Scenic 101, SLO Food Co-op, Quick Pickle Kit, and Economics of Being a Woman.  This brings our exhibitor count up to 12.  Lots to see at CCB!