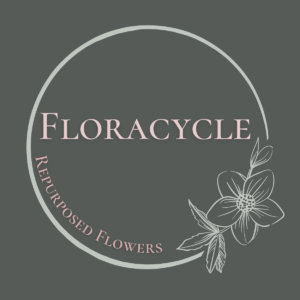 Ecologistics is delighted to introduce you to our newest sponsored organization, Floracycle.  Cal Poly graduates, Amy Millan (currently a biologist with Cal Trans) and Annie Gillespie (an environmental specialist with SLO County), started Floracycle in October 2021.  The organization retrieves and repurposes fresh floral arrangements that are unneeded at the conclusion of special events. Donated flowers are sorted, trimmed, and arranged into small tabletop arrangements and delivered by volunteers free of charge. Delivery is prioritized to underserved community members who are otherwise unlikely to receive floral arrangements. Floracycle partners with local nonprofits, medical facilities, and senior housing establishments to deliver free, fresh floral arrangements across our community.
"Since our launch in October of 2021, we have repurposed flowers to create over 540 floral arrangements for donation. Our mission has been enthusiastically embraced by the community, with both brides and event coordinators frequently contacting us to learn more and offer donations," says co-founder Gillespie.
More information about Floracycle can be found on their web site https://www.floracycle.org/ .  Donations can also be made there.