World Café a new addition to Central Coast Bioneers Conference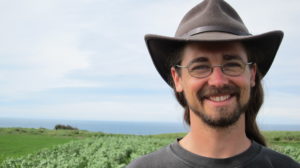 We are lucky this year to have David Shaw joining us to facilitate a World Café on Saturday afternoon, October 25 at this year's conference. David, a permaculture and whole systems designer and educator, co-founded the Common Ground Center at U.S. Santa Cruz. He has facilitated World Cafes at the National Bioneers Conference in San Rafael. David sees the Café as a hospitable space for integration and reflection on what is emerging at the conference. As Idle No More organizer Ta'Kaiya Blaney says, "If we keep waiting for change, it is never going to come." David points out that activists from all backgrounds and with various purposes are finding common ground and strategizing about how to take collective action. "What may we at Central Coast Bioneers do together in service of our common futures?" he asks.  How can we on the Central Coast be "Idle No More" and support each other in taking our next steps to shape the future?
David will be joined by graphic recorder Ruth Rominger, who will use her recording and facilitating skills to help groups collaborate more efficiently. Also participating will be our Climate Justice keynote speakers from Friday, John Foran, Summer Gray and Corrie Ellis. We are wiser together so don't miss out.