Blue C Community Garden taking shape in Los Osos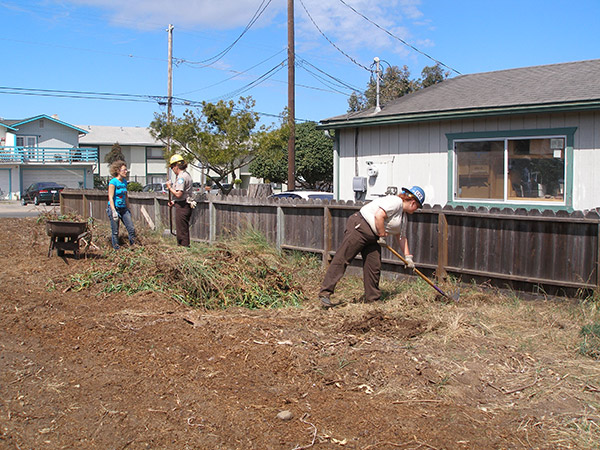 Ecologistics' latest project is the creation of a community garden in a vacant lot on 11th Street in Los Osos. We are truly starting from scratch on an old sand dune! In the above photo, our friends at the California Conservation Corps (the site of a field trip on greywater use and rainwater collection at the 2011 Central Coast Bioneers Conference) provided the man and woman-power to clear the lot of debris and weeds.
There will be space for 15 plots. Ecologistics will maintain a permaculture demonstration garden and will be collaborating with Surfrider's Ocean Friendly Gardens program to create a demonstration ocean friendly garden. We are now raising money and accepting donations of materials and labor for the following needs: fencing material, piping and hose bibs for irrigation, hoses, materials for a tool shed, shovels, rakes and trowels, wheelbarrows, soil and compost, worm bins, picnic tables, a bench, and decomposed granite for pathways. Also, if anyone knows anyone with a grader who can level the lot, that would be fantastic! The Los Osos Rotary has stepped up to help us build a fence.
Please e-mail us at info@ecologistics.org or call us at (805) 548-0597. Checks can be mailed to Ecologistics, Inc., 633 Ramona Ave., Space 103, Los Osos, CA 93402. Ecologistics is a 501(c)(3) nonprofit corporation. All donations are fully tax-deductible.