Book release celebration for Matt Ritter's California Plants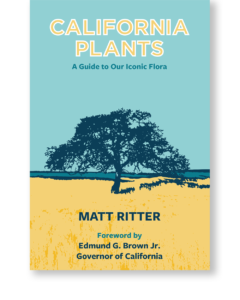 The California Native Plant Society invites you to a free book release celebration and presentation by Cal Poly botany professor and author Matt Ritter on Thursday, May 3 from 7:00-8:00 pm at the Vet's Hall at Grand and Monterey Streets in San Luis Obispo.  Matt will use his beautiful photographs, insight and humor to share the natural history of California's fascinating plants.
Matt is the author of several books, including the best-selling guide to California's urban forest, A Californian's Guide to the Trees Among Us (Heyday 2011).  He won the Cal Poly Excellence in Teaching Award and the International Society of Arboriculture Award for Excellence in Education.
Copies of California Plants will be on sale and a book signing will follow Matt's presentation.  A portion of the proceeds from each book will go to support the California Native Plant Society and The Wildlands Conservancy.  Click here for more information about California Plants.