Ecologistics to Host Deep Ecology Collaboratory – October 21-23, 2016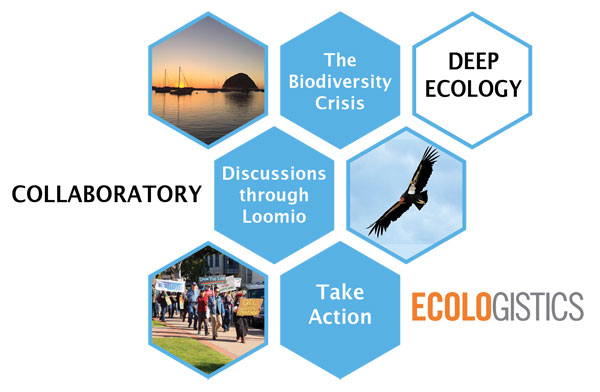 The 3-day Deep Ecology Collaboratory hosted by Ecologistics takes place October 21-23, 2016 at the Rancho El Chorro Conference and Retreat Center, which sits on a beautiful 250-acre nature reserve in the heart of San Luis Obispo County.
Participants will address the biodiversity crisis, overpopulation, globalization, and the myth of human supremacy through the lens of Deep Ecology principles, which recognizes the inherent value of all living creatures. Everyone will have an opportunity to contribute to the Deep Ecology Manifesto for Preserving Our Planetary Commons containing policies, legislation, and public engagement solutions documented during the Collaboratory. Participants interested in continuing to work together may sign up for Loomio, an online collaboration and decision-making tool, courtesy of Ecologistics.
Collaboratory topic leaders and presenters include:
Kelly Sorenson – Executive Director of Ventana Wildlife Society
Dave Foreman – activist, author, and co-founder of Earth First! and The Wildlands Project
William Ryerson – founder and President of the Population Media Center
Joe Bish – Director of Issue Advocacy at Population Media Center
Eileen Crist – educator and editor of Gaia in Turmoil: Climate Change
Stephanie Mills – lecturer, activist, and author of Whatever Happened to Ecology?
Bill McKibben – author, educator, and founder of 350.org (via video)
Matt Ritter – author, editor, and professor of botany at Cal Poly, San Luis Obispo, CA
Jerry Mander – Program Director at the Foundation for Deep Ecology
Derrick Jensen – author of Deep Green Resistance: Strategy to Save the Planet
Robert Gifford – professor at University of Victoria, BC, Canada, environmental psychology
Ecologistics is seeking individuals, companies, and organizations interested in sponsoring the Deep Ecology Collaboratory and being part of the solution.
A fusion of "collaboration" and "laboratory", a collaboratory is an open creative process where a group of people work together to generate solutions to complex problems. Do not miss this opportunity to meet and collaborate with luminaries of the environmental movement.
To learn more and register for the Deep Ecology Collaboratory, please visit our new website at www.ecologistics.org.