GLO making progress on restoration project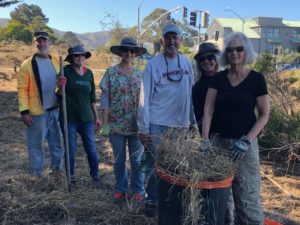 Volunteers from Greening Los Osos are hard at work on an important restoration project with the County at the corner of Los Oso Valley Road and South Bay Blvd. that started in November.  So far, 20 coast live oaks and toyon seedlings and 35 native shrubs including lupine, sage, sticky monkey flower, ceanothus and goldenrod have been planted.  Work on the project has been suspended due to the stay-at-home order but will be completed as soon as community gatherings are once again allowed.
Greening Los Osos participated in the Central Coast Bioneers Conference in February where they networked with like-minded environmental groups, distributed brochures about the value of trees and more free seedlings.  To date, GLO has distributed over 125 toyon, coast live oak and Monterey cypress seedlings and is working with ECOSLO to create a countywide tree coalition
GLO recently received a grant from the County of San Luis Obispo for its work, thanks to Supervisor Bruce Gibson.  They will be partnering with the Los Osos Valley Garden Club on their annual plant sale.  For more information on the group, go to their Facebook page.   Donations can be made to Greening Los Osos via the Ecologistics donation page.