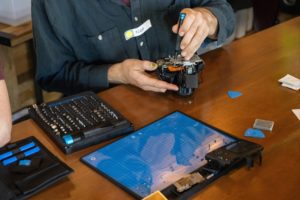 Five Cities Repair Café held its first post-COVID event on October 23rd in San Luis Obispo at the iFixit headquarters on Monterey Street.   Please see the report below from Repair Café's Executive Director, Linda Busek.
It was a beautiful Sunday in SLO, weather perfect, and our Repair Café team was outstanding! Thirty-three peerless volunteers turned out for our first iFixit partnered-Five Cities Repair Café event in SLO.   We held our first hybrid event with Fixit Clinic's Peter Mui coordinating repair coaches and participants on Zoom in the 'intergalactic' space. They also got a personalized tour of iFixit's HQ.
It was fun! Locally, our neighbors came from SLO, Los Osos, Arroyo Grande, Paso Robles, Oceano, Pismo Beach, Grover Beach, Atascadero, Morro Bay, Cambria, Avila, Nipomo, and (!) Portland.
76 repair tickets were turned in and 37 items were successfully repaired, including bikes, computers, clothing, and small appliances, and 23 knives were sharpened.  Many newbies were among our outstanding crew. The Scouts were brilliant contributors, seemingly everywhere / all the time in just the right places. Our first-time plantsman introduced attendees to CA Rare Fruit Growers Assn. and taught grafting tips. And we had interest from North County in mentoring them to start their own future Repair Café.
Be sure to mark your calendars for the next Repair Café, Sunday, February 5 from 1-4:30 at the Oceano Community Services District, 1655 Front Street.  More information here:  https://www.repaircafe5cities.org/