A sustainable building ordinance for SLO: can earth ships land here?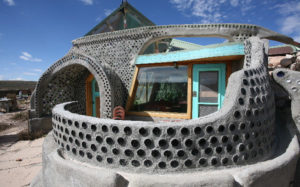 Please join us for the next event in our Critical Conversation Series on June 10 at Steynberg Gallery, 1531 Monterey St. Central Coast Bioneers will screen Garbage Warrior, the story of renegade architect Michael Reynolds and his epic battle to change the building codes in New Mexico. The screening will be followed by a conversation about the ongoing effort to craft a SLO County ordinance to allow research into sustainable building systems and methods. Kicking off the discussion will be Ben Werner, a graduate of UC Santa Barbara with an M.S. in electrical engineering. Ben lives in a sustainable living research site with natural buildings and onsite water reuse systems in a permaculture food forest in downtown Santa Barbara. As co-director of Sama Group, Ben is spearheading a Sustainable Living Research Ordinance in Santa Barbara. Ben will be joined by Chris Clanton, who was born into a construction family, with a specialty in concrete. He has been building in the conventional way for more than 40 years. Chris has been a superintendent on many large commercial projects in San Luis, including the Children's Museum and the United Methodist Church. Two years ago while traveling in New Mexico, he stumbled across earthships and was instantly captivated with the idea of building sustainable housing in harmony with the planet. Chris went to earthship HQ in Taos and stayed in one, bought all of the books and DVDs, and signed up to go on a build in Africa last October. In March 2014, he returned to Taos to attend the Academy where he learned about the systems.
Doors open at 6:00, film starts at 6:30, discussion at 8:00.   $5 suggested donation at the door.