In person or virtual – YOU choose! CCB 2022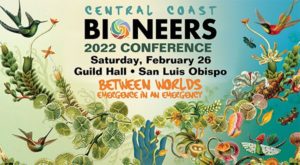 Registration is open for the 2022 Central Coast Bioneers Conference, with the theme "Between Two Worlds: Emergence in an Emergency."   A day packed full of exciting discoveries and important information awaits you, either in person at the SLO Guild Hall or in the comfort of your own home, if you choose the virtual option.
"Not knowing where COVID was going, we decided to give attendees both options," explains Stacey Hunt of Ecologistics, one of the conference organizers.  "It's the same price to attend either way," she says, "and you are not stuck with your initial choice.  If you pick virtual when you initially register and the pandemic is starting to fade by February, you can change over to in person."
A mixture of live presentations and recordings from the 2021 National Bioneers Conference will be presented, beginning at 9:00 am, and ending with a closing drum circle ceremony at 3:45 with master drummer Francesca Bolognini.  Exhibitors will be on hand with interesting information and items to purchase.  To date exhibitors who have signed up are Volumes of Pleasure Book Shoppe, the SLO Seed Exchange, the SLO County Food System Coalition, The Peace Project, Home Front Environmental Justice Morro Bay, SLO Beaver Brigade, and Five Cities Repair Café.
Morning breakfast will be feature coffee, tea, and breakfast items from Coastal Peaks Coffee.  Lunch will be available for purchase from Haute Skillet Mobile Gourmet.
A feature of past Central Coast Bioneers that is back this year is the pre-conference field trip.  Hosted by the SLO Beaver Brigade, a guided walk, led by Dr. Emily Fairfax, Assistant Professor of Environmental Science and Resource Management at CSU Channel Islands, will take participants to a beaver complex in Atascadero.  This walk will take place at 10:00 on Friday, February 25.
For more information and to register, go to the Ecologistics web site.